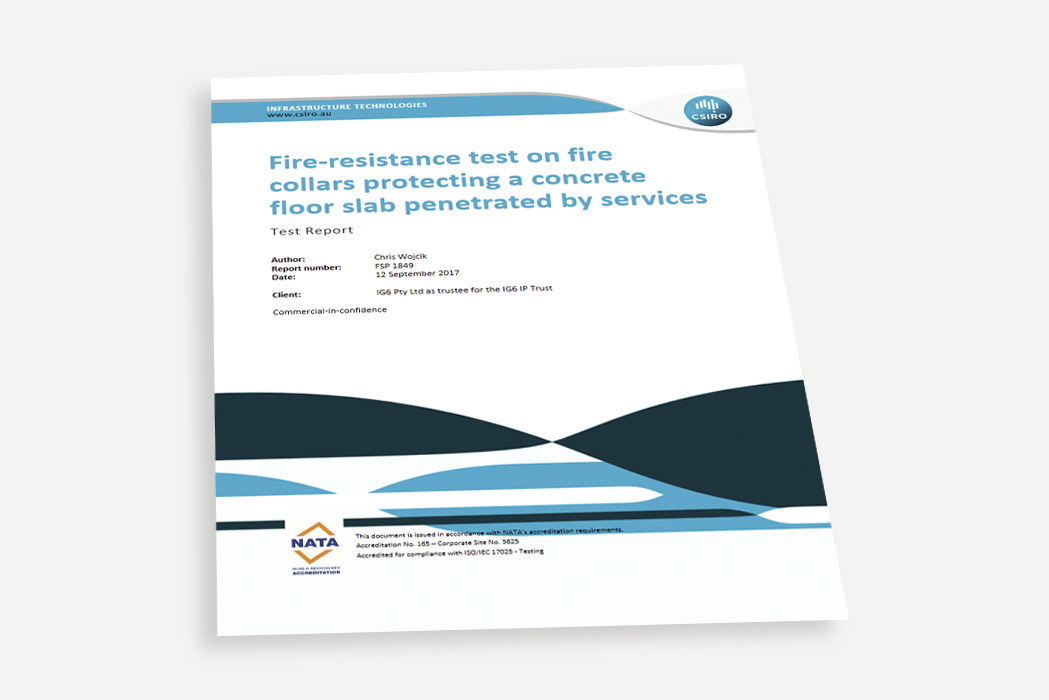 FSP1996: Various pipe types through a framed wall system comprised of 2 x 13mm sheets of fire-rated plasterboard either side of a 64mm Steel stud.
FSP1986: 250 HDPE pipe and the 250C Cast-in Collar in a concrete slab.
FSP1985: Single 13mm Fire-rated plasterboard sheets either side of a steel stud with a range of pipe types and collars
FSP1978: 225 PVC and 2-inch C-PVC pipes with Snap Retro-fit collars through a fire-rated plasterboard wall.
FC10394: Rehau Raupiano and Snap retro-fit collars on a Fire-rated Plasterboard wall
FSP1960: Single 13mm Fire-rated plasterboard sheets either side of a steel stud with a range of pipe types and collars
FSP1906: Fire-rated P'board Ceiling and CFC floor with Steel Joists. Retro-fit Collars with Raupiano Pipe in Stack and Floorwaste Configurations. 60 min RISF rating
FC10129: Retro-fit Collars on a 75mm Hebel Powerpanel wall with Various HDPE Pipes
FC10124: Retro-fit Collars on a 75mm Hebel Powerpanel wall with Various PVC Pipes
FC10389: 32R Retro-fit Collar on a 75mm Hebel Powerpanel wall with PE-X pipes of various diameters
FCO3331: Assorted Pipe/Collar Combinations on 2-Hour 75mm Hebel Powerpanel
FSP1946: HP315R Retro-fit collar either side of a plasterboard wall penetrated by a 315 HDPE pipe
FSP1932: Single 13mm Fire-rated P'board Sheet Either Side of 64mm Steel Stud with Various Retro-fit Collar & Pipe Combinations
FSP1931: HP315R Retro-fit collar either side of a plasterboard wall penetrated by a 315 PVC pipe
FSP1872: Slab with HP315R Retrofit Collar with 315 PVC pipe, Bundles of Pex Pipes through an H50FWS Cast-in Collar
FSP1902: Assorted Pipe/Snap Retro-fit Collar Systems on a Plasterboard Wall, Including Pairs of Pex and Pex/Al/Pex Pipes Through a Single Collar and Optical Fibre Filled Conduit
FSP1924: Snap 315C Cast-in Collar in a Slab with 315 Diameter HDPE
FSP1883: 120 Bondek Slab with Snap Cast-in Collars Installed Using a Holesaw and Various HDPE Pipes