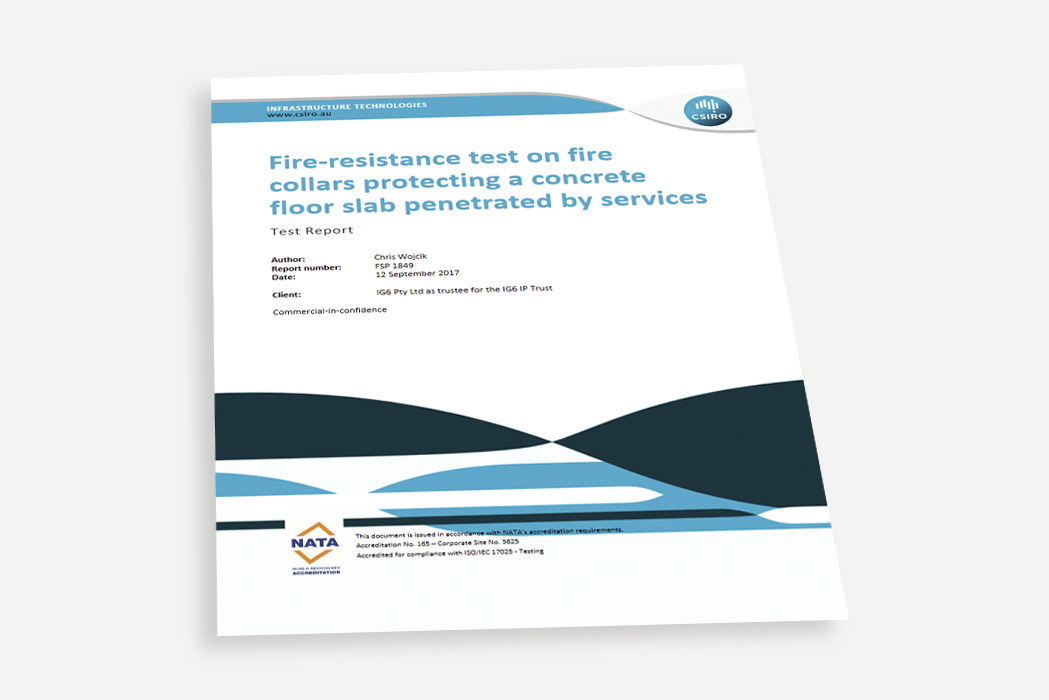 FSP1906: Fire-rated P'board Ceiling and CFC floor with Steel Joists. Retro-fit Collars with Raupiano Pipe in Stack and Floorwaste Configurations. 60 min RISF rating
FC10129: Retro-fit Collars on a 75mm Hebel Powerpanel wall with Various HDPE Pipes
FC10124: Retro-fit Collars on a 75mm Hebel Powerpanel wall with Various PVC Pipes
FC10389: 32R Retro-fit Collar on a 75mm Hebel Powerpanel wall with PE-X pipes of various diameters
FCO3331: Assorted Pipe/Collar Combinations on 2-Hour 75mm Hebel Powerpanel
FSP1946: HP315R Retro-fit collar either side of a plasterboard wall penetrated by a 315 HDPE pipe
FSP1932: Single 13mm Fire-rated P'board Sheet Either Side of 64mm Steel Stud with Various Retro-fit Collar & Pipe Combinations
FSP1931: HP315R Retro-fit collar either side of a plasterboard wall penetrated by a 315 PVC pipe
FSP1872: Slab with HP315R Retrofit Collar with 315 PVC pipe, Bundles of Pex Pipes through an H50FWS Cast-in Collar
FSP1902: Assorted Pipe/Snap Retro-fit Collar Systems on a Plasterboard Wall, Including Pairs of Pex and Pex/Al/Pex Pipes Through a Single Collar and Optical Fibre Filled Conduit
FSP1924: Snap 315C Cast-in Collar in a Slab with 315 Diameter HDPE
FSP1883: 120 Bondek Slab with Snap Cast-in Collars Installed Using a Holesaw and Various HDPE Pipes
FSP1904: 110 HDPE through the Snap H150S-RR Cast-in Collar
FSP1891: +GF+ George Fischer Coolfit 2.0 d65/110 with H100FWS cast-in collar
FCO3268:Various Snap Retro-fit and Composite Plastic-Aluminium Pipe Collars on FireCrunch MgO Board with assorted pipe types.
FSP1849: Concrete Slab with a Bundle of 3 x 20mm Pex-a pipes through an LP50R Retro-fit Collar, HP250R-B with 225 PVC Stack
FSP1830: Low Profile LP100R-D retro-fit collar as floorwaste for HDPE pipe. Also, a 20mm bead of non-fire rated, neutral cure Roof and Gutter silicone sealant used as seal around PVC pipe.